About Clarita's Costa Rica Hotel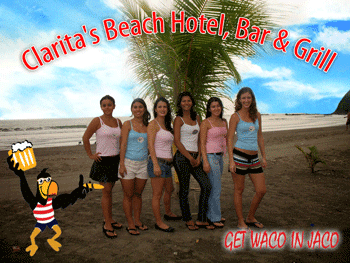 Clarita's is located on Costa Rica's beautiful Pacific Coast, directly on Jacó Beach, where you are surrounded by lush tropical mountains and a 5.5 km (3.5 mile) uninterrupted beach — only an 80 minute drive from San Jose.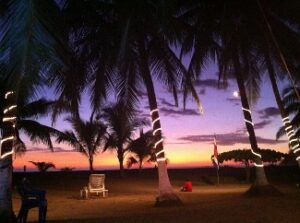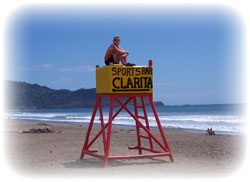 Clarita's offers the smart and budget minded traveler comfortable and affordable rooms. Choose between affordable air conditioned rooms and even more affordable non- air conditioned rooms if you would rather have the sound and breeze of the Pacific lull you to sleep. Clarita's rooms come with air conditioning, comfortable full size beds, cable TVs, refrigerators, full bathrooms, ceiling fans, room safes, ocean views– and they are clean.
ARE YOU READY TO BREAKOUT YOUR SANDALS, BIKINI, SURF BOARD & KOOZIE?
Make Your Great Escape To Clarita's on Jaco Beach
Click Here For Room Rate Specials!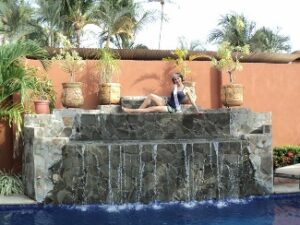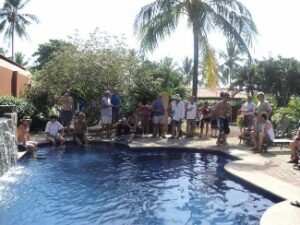 Clarita's Aquatic Drinking Center … also known as Clarita's new pool and swim up bar … is open and has been blessed by Miss Clarita!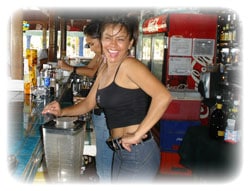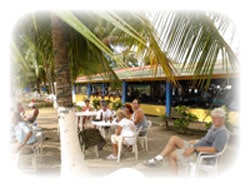 Come and enjoy Clarita's world famous open-air Beach Bar, Sports Grill & Beach Front Pizzeria. When its time to "Get Waco in Jaco," Clarita's Beach Bar is the place to party on Jacó Beach. No ties or sox allowed! You don't even have to talk about yourself. . . . . . . . we'll do that after you leave!! Follow complete sports coverage (or your favorite Spanish soap opera) on Clarita's numerous large screen satellite TVs, shoot pool, throw darts or just let the music and views sooth your soul. Weekends mean live music at Clarita's.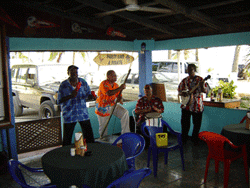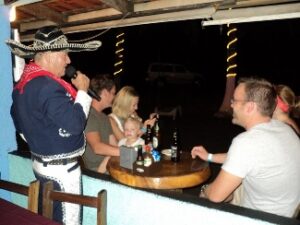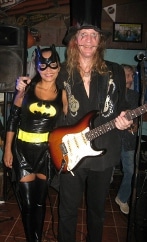 For those of you who feel guilty about having too much fun or just miss the aggravation of back home, Clarita provides free wi-fi to raise your blood pressure. Yes, for our compulsive, but lovable laptopers, Clarita's high speed wireless internet reaches her Beach Bar, Grill, Hotel and even her beach.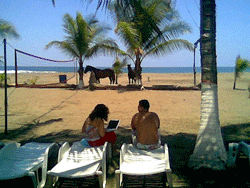 Clarita's Grill provides a complete breakfast, lunch and dinner menu, prepared on Jacó's largest barbeque, and tables on the beach to feast and enjoy the best sunsets in Costa Rica! Also, don't forget to enjoy the Best Pizza in Jaco at PIZZA CLARITA!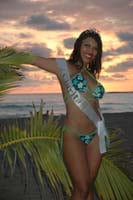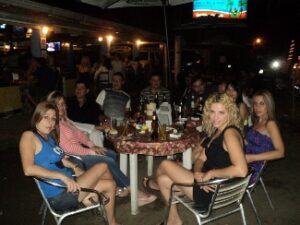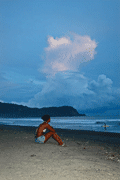 Spend your days surfing, boogieing, swimming, playing beach volleyball, horseshoes or just tanning with a cold one in your hand– all just 400 steps from your room. If you're like Clarita, you can walk Jacó's 3.5 mile (5.5 km) beach with your ankles in the Pacific's 80 degrees water and a cool breeze at your side – there's lots to see on these walks so don't jog! Horseback riding, deep sea fishing, canopy tours through Costa Rica's unforgettable rain forest and crocodile safaris are a phone call away.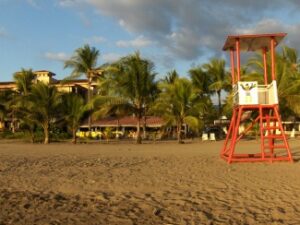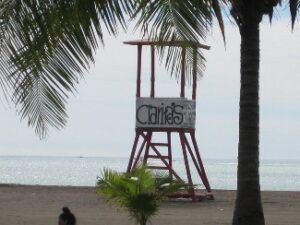 Clarita's friendly…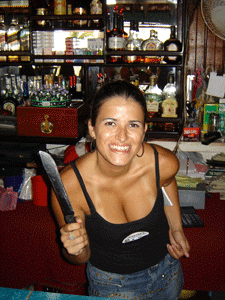 …Hardworking…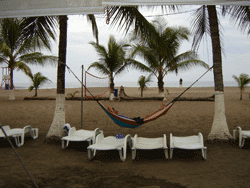 …and Decorated staff…
…dedicate themselves to Clarita's immortal mantra:
"Dun Worry, Be Happy" (or as the 'hardworking' staff suggests: "If our service doesn't meet your standards…….just lower your standards")
Don't just take our word … read a few randomly selected reviews from past guests: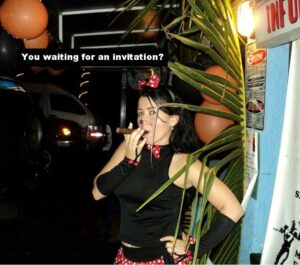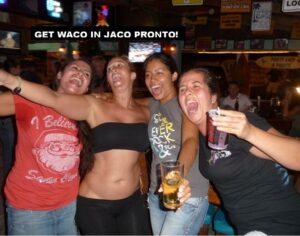 WiKiLeaks has just leaked a video with highlights (and lowlights) of the 2012 Miss Clarita Contest. Congrats to all who helped Clarita raise $915 for Jaco's school children.