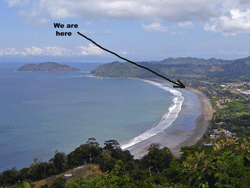 Clarita's Beach Hotel Beach Bar & Grill is located on Costa Rica's Central Pacific Coast. From San Jose or its international airport it is a 90 minute drive … give or take a truck or two in front of you. Clarita recommends that you hire a taxi or a van to drive you from San Jose or its airport to Jaco and Clarita's. The one way cost for 2 people should be approximately $90 … and at that price make sure your driver is sober. .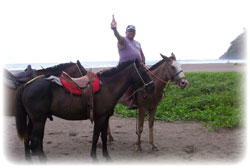 There is no reason to rent a car in San Jose for a drive to Jaco — unless you love driving mountainous roads and following trucks. In Jaco a car is not needed. Everything is a 5 to 10 minute walk or a $2 cab fare.
Or you can just steal a horse or two!
If you insist on renting a car in San Jose then follow Clarita's map below to Jaco. When you arrive in Jaco take the first right off the highway and stay on that road until you run into the beach, take another right and you have arrived.
If you are a real adventurer like Clarita, you can catch a bus to Jaco in San Jose. The buses to Jaco leave San Jose daily at 7:30 a.m., 10:30 a.m., noonish, and 3:30 p.m. The fare is $6.00 and the trip takes 1 1/2 hours. The buses are modern, safe and according to Clarita, a great way to meet the locals and see the real Costa Rica. WARNING: While on public transportation do not let your carry-on baggage out of your sight. Baggage checked with a receipt from the driver is usually safe!
Once in Jaco, if you need to rent a car for a day trip or to explore more of Costa Rica, there are many car rentals available. We suggest Budget. Car rentals are aproximately $40 to $60 per day. Budget, Economy & Zuma car rentals are only a 15 minute walk from Clarita's.
Remember the coin in Costa Rica is the Colone. Its exchange rate with the dollar changes almost weekly. There are 3 banks with ATMs in Jaco.