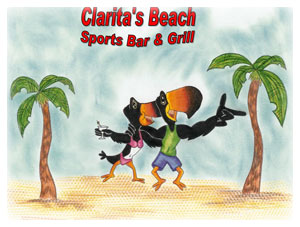 Where the Food is awesome, the Beer is cold and…..the Women are hot…like Clarita!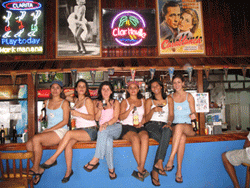 Clarita's is the place in Jacó, Costa Rica to eat, drink, party and play on the beach. Clarita's world famous open-air Beach Bar & Pizzeria provide complete sports coverage on numerous large screen satellite TVs, free wi-fi, darts and music that puts the Waco in Jacó!
Thursday is all about Latina Musica and Dancing under the Stars to reggae, salsa, merengue and your requests. Friday is Karaoke night. Sing a song and get a FREE shot after the boos die down! Saturday is Guest Band Night and plenty more dancing. Sundays feature Clarita's world famous calypso band 'Dun Worry . . . Be Happy' and your choice of NFL games off the satellite.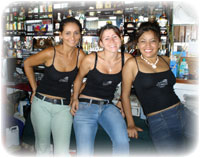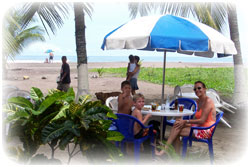 Clarita refuses to accept more than $2.50 for domestic bottled beer and gives away Tequila to those singers with huevos on Friday nights from 9:00pm–??  Stop whining light weights- you can steal a beer and a slice of Pizza from PIZZA CLARITA for $5.00 on Thursdays from 7:00pm-11:00pm. And if the scenery doesn't light your fire, try one of Clarita's Tequila Hot Shots or Chilli Guaros . . . they are guaranteeeed to make YOU more interesting and your date sexier!!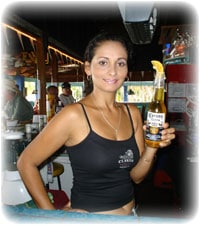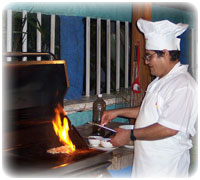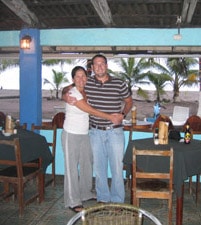 If you are one who gets bored sitting, playing pool or darts, or watching the Cubs win (?), then take a step on to the beach and see how good you are at volleyball, horseshoes, surfing, boogieing, or just relax at one of Clarita's beach tables, where you can eat, drink and enjoy the scenery. Your waitress will find you!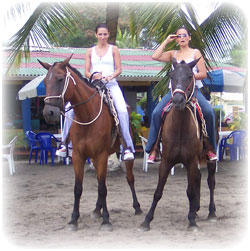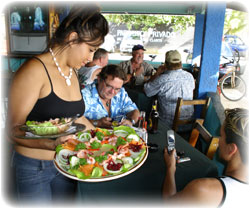 Did we mention food? Suffice it to say, no one eats at Clarita's and lives to regret it!! Clarita's full menu covers breakfast, lunch, snacks and dinner. No menu item exceeds $18.00 . . . . unless we are really short on money!!!!
On Jacó's largest barbeque grill, Clarita serves up fresh Pacific fish like red snapper, Mahi-Mahi, Dorado, and Ahi Tuna along with delicious dishes of chicken, shrimp, ceviche, burritos, enchiladas, pasta, pepper steak, barbeque ribs, filet mignon and other local specialty dishes. Like Clarita always says, "If it ain't good, I don't serve it." And don't forget our new addition …. PIZZA CLARITA which serves the best pizza and coldest beer on Jaco beach!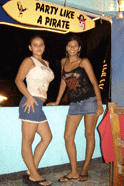 Whatever you do, wherever you go, make sure you're back at Clarita's by 5:00 pm to view the best sunsets in Costa Rica, and to . . . . . Party Like a Pirate!!